Coronavirus Patient Information
Posted January 29, 2020

IF YOU SUSPECT YOU MAY HAVE NOVEL CORONAVIRUS (COVID-19), PLEASE CALL THE DEDICATED HOTLINE ON 1800 675 398 OR ATTEND A DEDICATED COVID-19 SCREENING CLINIC.
PLEASE KEEP TRIPLE ZERO FOR EMERGENCIES ONLY
PLEASE RESPECT THAT AT EMERALD MEDICAL CENTRE WE ARE BEING CAREFUL ABOUT ALLOWING ENTRY OF ANY POTENTIAL NOVEL CORONAVIRUS CASES IN ORDER TO PROTECT OUR PATIENTS AS WELL AS OUR STAFF.
WE STILL WISH TO HELP YOU THOUGH! OUR RECEPTIONISTS MAY BOOK A TELEPHONE/VIDEO CONSULT WITH A GP AS AN INITIAL MEASURE TO ASSESS YOUR NEEDS.
If you are unwell with a new cough, fatigue, sore throat, and/or shortness of breath and need to see a GP then please call the practice before attending, and inform the receptionist of your concern.
A receptionist will offer a telehealth appointment by the GP to assess your symptoms & needs.
The GP may wish to clinically assess you – in which case you may be directed to come & wait in our car park. The GP will then don protective clothing in order to approach you.
You may be asked to attend the local COVID-19 screening clinic in Berwick (click here) if you are deemed to be a high risk for novel coronavirus and do not have the capacity to see you here
You should attend hospital if your symptoms are very serious and life-threatening.
If you are in doubt what to do there is a supportive online health questionnaire here. Or read more at https://www.dhhs.vic.gov.au/coronavirus
What is this virus?
Coronaviruses are a strain of germs that can make humans and animals sick with cold or flu-like symptoms, however this Novel Coronavirus, also known as SARS-CoV2 or COVID-19, is a new strain that can cause more serious diseases and be life-threatening, including Severe Acute Respiratory Syndrome (SARS) and Middle East respiratory syndrome (MERS), hence the need for some to require artificial ventilators to breath. This complication could happen to anyone, but is more likely in elderly people or those with pre-existing medical conditions.
The novel coronavirus was first detected in the city of Wuhan, China in late 2019. It is likely that the virus originally came from an animal, it spread to a human causing an infection, and then it probably mutated, facilitating its spread from person-to-person. Until late February 2020, most people who were infected lived in, or had travelled to, mainland China, in particular Hubei Province. Sadly the virus has since spread to many other countries, with Italy being severely affected. Australia has an increasing number of cases, hence the need to take it seriously in our community with significant shutdowns of schools and businesses as well as social distancing to reduce the velocity that it spreads. To read more on the measures to slow the spread of novel coronavirus click here.
How is the virus spread?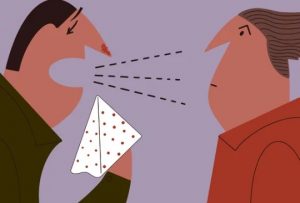 The virus is most likely to spread from person to person in the droplet form, originating from someone's mouth or nose:
• direct (or within 1.5m) contact with a person whilst they are infectious
• contact with droplets when a person with a confirmed infection coughs or sneezes; or
• touching objects or surfaces (such as door knobs or tables) that were contaminated by droplets from secretions coughed or sneezed from a person with a confirmed infection, and then touching your mouth or face.
Close contacts of a person with a confirmed infection (such as people staying in the same house or sharing a closed space for a prolonged length of time) are most at risk of infection. It is important that you understand the symptoms of novel coronavirus and seek medical attention if you become unwell.
What are the symptoms?
Symptoms can include (but are not limited to):
Fever
New cough
Sore throat
Shortness of breath
With this extra infective symptoms may include:
Tiredness/lassitude
Muscle and joint aches
What happens now?
Your doctor will assess you, either over the phone or face-to-face with appropriate protection on, your symptoms and risk of having contracted the novel coronavirus.
Testing, which involves a swab being placed in the nose and mouth, should take place with the GP wearing gloves, mask, gown and eye protection (PPE) to protect themselves. The swab test is currently being performed widely in Victoria. People should be tested if they have:
Fever OR chills in the absence of an alternative diagnosis that explains the clinical presentation
OR
Acute respiratory infection (e.g. cough, sore throat, shortness of breath, runny nose or loss of smell)
Testing is recommended for people with:
New onset of other clinical symptoms consistent with COVID-19 (headache, muscle aches, stuffy nose, nausea, vomiting, diarrhoea)
AND are
Close contacts of a confirmed case of COVID-19.
People who have returned from overseas in the past 14 days.
Healthcare or aged care workers
If you have been tested, it may take a few days for the test results to be returned and the doctor says you are well enough to return home while you are waiting for your test results you should isolate yourself entirely from the outside world.
What is self isolation?
The precautions of self isolation include:
• Remain in your home and do not attend work or school (you should not leave your property nor allow visitors in)
• Wash your hands often with soap and water;
• Cough and sneeze into your elbow;
• Avoid cooking for or caring for other members of your household; and
• Wear a mask if close contact with other people is unavoidable.
There is more information on self isolation here.
In the meantime If your symptoms are getting more serious you should call the GP and/or seek emergency help and possibly hospital admission.
What happens if my test is negative?
You no longer need to remain in isolation. You may return to normal activities on your doctor's advice. You should continue to carefully monitor your health for up to 14 days after your last contact with the confirmed case. Report any new or returning symptoms to Public Health in this period. You may be required to be tested again.
What happens if my test is positive?
You must remain in your home until 1 day after your symptoms end.
If your condition deteriorates, seek medical attention:
• Notify the Public Health officers managing your care by calling the number provided to you;
• Follow the direction of the Public Health officers who may advise you to go to a doctor's surgery or a hospital;
• Call ahead to a doctor or hospital and inform them that you are a confirmed case of novel coronavirus;
• Put on the mask provided to you for if you need to leave the house;
• When you arrive at the doctor's surgery or hospital, tell them that you are a confirmed case of novel corona virus.
If you are experiencing severe symptoms, such as shortness of breath:
• Call 000 and request an ambulance; and
• Inform the ambulance officers that you are a confirmed case of novel corona virus.
People who you have had contact with including family members and people you live with will
need to isolate themselves for 14 days since their last contact with you
How is the infection treated?
There is no specific treatment for the novel coronavirus infection and in the vast majority of cases they will recover within a few days, like any cold or flu virus. Antibiotics are not effective against viral infections. However, your doctor will explain most of the symptoms can be treated with supportive medical care such as:
Research is in place to find a treatment, yet this is not available yet and may take several months to be safely rolled out.
What about a vaccination to protect us?
A vaccination is being developed in the US, but to safely deliver an immunisation against this virus it will take up to 18 months to bring out to the general public.
Where can I get more information?
Visit the Australian Government Department of Health homepage at www.health.gov.au Call the Public Health Information Line on 1800 004 599. Discuss any questions you have with the Public Health Unit